A black street preacher, believed to be a Nigerian man, was arrested in London on 23 February apparently for an alleged "breach of the peace" as he preached the Gospel outside Southgate Underground Station. He was later "de-arrested", according to a Metropolitan Police spokesman.
The preacher pleaded peacefully with two white police officers not to take away his Bible. In a humiliating arrest, they placed his arms behind his back in handcuffs and took the Bible from him and one officer can be heard replying, "You should have thought about that before being racist [sic]."
In a verbal exchange recorded in a two-minute video, one officer tells the unidentified preacher that he was "required to go away" because he was "disturbing people's days". The preacher responded, "I will not go away because I need to tell them the truth. Jesus is the only way, truth and life."
An eyewitness told Barnabas Fund that, before the police arrived, the preacher was being confronted aggressively by a young man, apparently Muslim and in his 20s, wearing a hooded top. The man was loudly abusive about the Bible and God with his face close to the preacher's. The young man also threatened the preacher, brandishing a closed fist holding prayer beads.
When the police arrived to question the street preacher they were witnessed saying that there had been a complaint of "Islamophobia" made against him. It is not known at the time of writing who made the complaint to the police. The young man ran away from the scene as soon as the police appeared.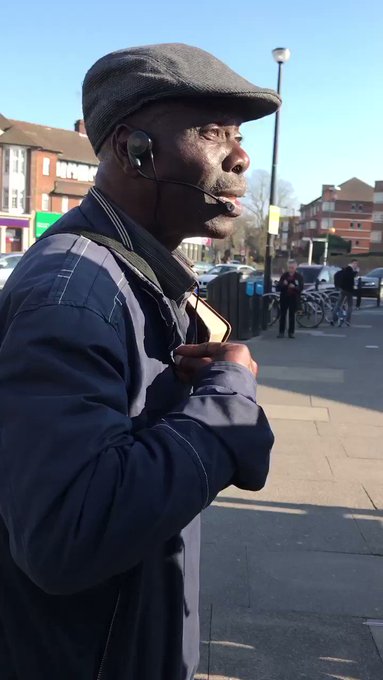 EyeOnAntisemitism@AntisemitismEye
A Christian preacher this afternoon was arrested at Southgate station London N14 for preaching about Jesus . @CConcern the police told him it's because public had said he was being islamophobic . We have the full video and wondered when preaching was now illegal ? @Campaign4T6,8139:54 AM – Feb 23, 20196,314 people are talking about thisTwitter Ads info and privacy
The video of the preacher's arrest has gone viral in West African countries such as Ghana and Nigeria, with around 2.3 million views at the time of writing. Some of the media stories suggested that there is now greater freedom of religion in Africa than the UK, while one Nigerian account of the man's arrest led to comments being blogged underneath the story advocating beating up preachers and banning them from Nigeria.
The arrest of the Nigerian preacher in north London appears to have been unlawful. The video shows the police telling the man that he must stop preaching. However, it is not lawful for a police officer to order someone to stop preaching unless their actions incite violence.
In 1997 Alison Redmond-Bate, the first street preacher to be arrested in Britain since the nineteenth century, was ordered to stop preaching by a police officer after a crowd of hecklers became abusive. When she refused she was arrested. However, in the appeal court, Lord Justice Sedley ruled, "A police officer has no right to call upon a citizen to desist from lawful conduct."